Sources for Organic and Fresh
Produce in Niagara
If your visit to Niagara Falls is going to include looking for sources of organic and fresh produce grown in Niagara, you won't be disappointed.
The Niagara Region is known to have some of the most fertile land and best growing conditions in all of Canada.
While on vacation it can be difficult to find good healthy alternatives to the fast food that seems to be rapidly taking over everywhere.In Niagara though, there are easy to find affordable places where you can get locally grown fruits and vegetables as well as drug free meats and even organic wines if you so desire.
Below we have listed some great sources in the Niagara Region that provide healthy alternatives to the common nutrient deficient food available today.


Sources for Organic and Fresh Food in Niagara

---
Produce Farms Open to the Public



Bartel Organics
Offering many interesting varieties of organically grown tomatoes and other vegetables. Other items include raspberries, blackberries and many herbs.

Location:
Available at the Niagara on the lake Farmers market or pre-ordered by phone for pick up only. Firelane #18, Niagara on the Lake
1-905-937-5252



---
Kurtz Orchards
Known for their exceptional line of quality products including jams, jellies and fruit syrups grown and produced in Niagara, Kurtz offers a delightful selection of what is grown fresh in Niagara.A great place to go for a picnic lunch of breads and fresh salads while enjoying Niagara's beautiful countryside.
Location
:
Niagara Parkway, Niagara on the Lake (12 min from the Falls)
1-905-468-2937
---
Tree and Twig Heirloom Vegetable Farm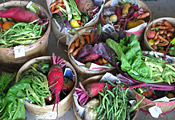 Offering a wide selection of Heirloom vegetables and seeds, Tree and Twig grows their produce in way it was ment to be, without the use of pesticides, herbicides or fungicides.

Although the Tree and Twig Farm is a bit of a drive from Niagara Falls (30 - 40 mins), for those who are craving the taste of "real" vegetables or wish to grow their own, it's worth it.

Location:
84039 Regional Road 45
Wellandport, ON
(905) 386-7388

Tree and Twig Farm website

---
Naturally Raised Drug Free Meat

Gryphon Ridge Highlands
Offering naturally raised Highland beef from award winning cattle. Well marbled aged 21 to 28 days. Gryphon Ridge also offers organic omega 3 eggs along with various seasonably available fruits and vegetables. Call ahead to see what is available.

Location:
1324 Larkin Rd. Niagara on the Lake
1-905-468-5603


---
Lake Land Meats
Offering drug and additive free beef and lamb including certified organic chicken, venison, wild boar, quail, duck, pheasant and rabbit. All livestock is raised on their farm and fed natural feed that is also grown on location to ensure the highest quality meat.
Location
:
St. Paul Street, St. Catharines (20 min from the Falls)
1-800-665-3547
---
Certified Organic Wines

Frogpond Farm Winery
Providing certified organic Cabernet/Merlot wines. Winery tours offered on Saturdays or by appointment.
Location: 385 Larkin Rd. Niagara on the Lake1-905-468-1079